We hope that you will visit at First English. Here's some information that will help you know what to expect: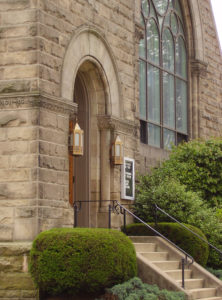 We try to welcome people who are worshiping with us for the first time without overwhelming them. A few people will say "hello," but we will not ask you to stand and introduce yourself.
The order of service itself is printed in an easy-to-follow  bulletin, except for some of the hymns, which are found in the hymnal in the pew.
The service is about 1 hour to 1 hour and 15 minutes long.
Our worship leaders wear robes. Members of the congregation wear what they find appropriate for church, so you'll see everything from coats and ties to jeans and boots.
Do you have children?  We believe they are welcome in worship! Pastor Kimberly does a children's sermon at every service, and there are children's bulletins and activities available, too. During the part of the service called the service of the Word (scripture readings and the sermon), children are invited to go to "children's church." (Age-wise, children's church is appropriate for age 3-9; younger kids are welcome with a parent to help them, and older kids are also welcome if they want to go!). There, they hear and respond to the same scripture reading that forms the basis for the sermon in "big church." We also welcome children's wiggling and understand that it is a part of being who God made them to be.
There's a social hour after every service with coffee, tea, and donut holes from our friends at Donut Connection on Center Ave.
Sunday school for all ages meets between services at 9:15 (school year only).